Find Location
5670 Greenwood Plaza Blvd
Suite Ll110
Greenwood Village, CO 80111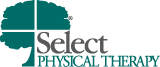 Hours
| Day of the Week | Hours |
| --- | --- |
| Monday: | 6:15 AM - 6:30 PM |
| Tuesday: | 6:15 AM - 6:00 PM |
| Wednesday: | 6:15 AM - 6:30 PM |
| Thursday: | 6:15 AM - 6:30 PM |
| Friday: | 6:15 AM - 4:00 PM |
| Saturday: | Closed |
| Sunday: | Closed |
Featured Services
Physical Therapy
Sports Medicine
Functional Capacity Evaluations
Return-to-Work Program
Select Sports Center of Excellence
Work Conditioning
Dry Needling
View All Services
About
At Select Physical Therapy, we know that injuries are never scheduled, but relief can be. If you're injured, tired of having less mobility or experiencing aches and pains, let our licensed clinical experts help. We believe movement is medicine and are committed to helping our patients get back to work, athletics and daily life. The road to recovery starts with Select!
Our center is proud to be a Select Sports Center of Excellence, which is an endorsement of our expertise in providing the highest quality of care in sports physical therapy. We have a proven commitment to excellence in injury prevention, rehabilitation/return to sports and performance enhancement.

Whether you're a competitive or recreational athlete, our focus is on you and your goals. Our dedicated sports medicine physical and occupational therapists know an athlete's mindset and the demands of your sport. Trust us to treat the athlete you are today so you may become the athlete you want to be, tomorrow.
We are proud to serve your community and are committed to providing each person an exceptional experience that promotes healing and recovery in a safe, compassionate environment. Call to request an appointment and experience the power of physical therapy today.
Our Team
Andrew Free, M.S., P.T., IMSp, FMSp
Andrew graduated in 2000 with his master's in physical therapy from Regis University. He joined Select Physical Therapy by way of acquisition in 2005. He is an instructor for dry needling, rib dysfunction and manual therapy techniques. He enjoys treating all types of patients. In his limited free time he referees wrestling and bow hunting. He does some competitive dancing and enjoys spending time with his family.
Jeff Dietrichson, P.T.
Jeff has been a member of Select Physical Therapy since October of 2021. He received his bachelor's degree in physical therapy from Texas Women's University in 1989. He is certified in dry needling. His favorite injuries to treat are sports-related. He also enjoys treating the extremities. When he is not working he enjoys hiking, cycling on both roads and the mountains and when he is near water he loves to scuba dive.
Cassie Kerkman, P.T., DPT
Cassie has been a member of Select Physical Therapy since 2023. She received her bachelor's degree in psychology from UC Denver. She graduated in December of 2022 from the University of Iowa with her doctorate of physical therapy. She likes treating all types of patients. She is focusing on gaining experience with every aspect of physical therapy. When she is not treating she enjoys snowboarding, reading and spending time with her family and friends.
Stefanie Dodson, PTA
Stefanie has been a member of Select Physical Therapy since 2022, after graduating in May and working in Texas as a travel therapist. She has worked in outpatient and skilled nursing facility settings. Stefanie enjoys orthopedic rehabilitation and sports medicine cases. Stefanie completed her education at San Juan College after working as a technician in an outpatient rehab for 2 years. She loves to work out, outdoor activities and spending time with family.
All Services
Physical Therapy
Physical Therapy
Dry Needling
Spine Program
TMJ/TMD Rehabilitation
Vestibular Rehabilitation
Headache Treatment
Sports Medicine
Sports Medicine
Select Sports Center of Excellence
Functional Movement Screen
Work Health
Functional Capacity Evaluations
Return-to-Work Program
Work Conditioning
Work Hardening