Find Location
101 Cherokee Place
Suite 107
Loudon, TN 37774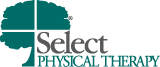 Hours
| Day of the Week | Hours |
| --- | --- |
| Monday: | 8:00 AM - 5:00 PM |
| Tuesday: | 8:00 AM - 5:00 PM |
| Wednesday: | 8:00 AM - 5:00 PM |
| Thursday: | 8:00 AM - 5:00 PM |
| Friday: | 8:00 AM - 5:00 PM |
| Saturday: | Closed |
| Sunday: | Closed |
Featured Services
Physical Therapy
Aquatic Therapy
Orthopaedic Rehabilitation
Hand Therapy
Sports Medicine
Work Conditioning
Ergonomic Programs
View All Services
About
At Select Physical Therapy, our experienced clinical team will design an individualized plan of care that aligns with your specific goals in mind. Through experience, advanced clinical training and clear communication with our patients, our therapy team will give you the advantage in recovery.We are proud to be part of the community and are committed to providing each patient with an exceptional experience that promotes healing and recovery in a safe, compassionate environment. Call or request an appointment and experience the power of physical therapy today.
Our Team
Andrew Kamp , P.T., Center Manager
Andy is a native of central Illinois where he worked in both outpatient and inpatient environments, with a focus on orthopedics. Andy brings a high level of energy with more than 25 years of experience and a burning desire to positively impact the physical aspects of the lives of those in the Tellico Village community. He is a certified clinician in ReVital Cancer Rehabilitation, Graston certified, performs casting for custom fit orthotics and well-versed in treatment of vertigo, balance disorders and fall prevention. Andy can often be found at the Wellness Center instructing patients in our aquatic therapy program or on the Pickleball courts promoting injury preventing, stretching and education.
Katelyn Williams , P.T., DPT
Katelyn graduated from Mercer University with a doctorate in physical therapy in 2021. She specializes in treating individuals with neurologic diagnoses including Parkinson's, post-stroke and vestibular/balance impairments. She also works with patients with various orthopedic diagnoses. She enjoys being outside hiking, camping and playing sports with friends. She is also a big UT football fan.
Michael Irwin, P.T., DPT
Mike received a bachelor's degree in biology and chemistry from Slippery Rock University, bachelor's degree in physical therapy from Georgia State University and doctorate in physical therapy from the University of St. Augustine. He earned a manual therapy certification and is Fellowship-trained in orthopedic manual physical therapy. He is also an assistant professor at the University of St. Augustine. Mike is beloved in the Tellico Village community and known for his hands-on therapy skills and treatment of the spine.
Amber Hall , P.T., DPT
Amber graduated from the University of Tennessee Health Science Center with a doctorate of physical therapy in 2006. She has been working for Select Physical Therapy since 2019 and loves to treats patients. She is certified in the McKenzie method of diagnosis and treatment of the spine. She is married with two little boys and loves spending time with family and friends, hiking, traveling and gardening.
Heather Walker , P.T., DPT, Pelvic Floor Specialist
Heather is a graduate of the University of South Alabama's doctorate of physical therapy program and taken post-graduate courses through the Herman & Wallace Pelvic Floor Rehabilitation Institute. She relocated to east Tennessee to pursue her passion for treating patients with pelvic floor dysfunction. She has experience treating men, women and children of all ages. Her strong passion for lifelong learning and helping others gain functional independence lead her to the field of pelvic health physical therapy. She is excited to continue her education and pursue certifications to better the lives of patients.
Anthony Bastianelli , PTA, CLT
Anthony graduated in 2013 from South College with a degree in physical therapy assistant. He strives for excellence and specializes in treating lymphedema, emergency medicine, orthopedics, therapeutic pain science, vestibular/concussion and LSVT BIG for Parkinson's. He is on a panel for the Tennessee State Board special interest group and held a chair in his local Chamber of Commerce. Anthony enjoys spending time with his two girls and wife and being involved in church. He is a co-owner to a Real Estate Appraisal Firm in Knoxville/Maryville. He has many hobbies that include wood working, general exercise, mountain biking, rock-climbing, white-water kayaking and playing the piano.
Elizabeth Fonken , P.T., DPT, NCS
Elizabeth graduated in 2016 with a doctorate of physical therapy degree from University of Colorado. She has worked in multiple settings, from the ICU in a trauma hospital to outpatient orthopedic centers. She has a passion for working with patients with neurologic disorders, specifically those with dizziness from inner ear dysfunction and those with spinal cord injuries. In 2021, she earned board certification in neurologic physical therapy. Additional certifications she has are vestibular and concussion rehabilitation through the American Institute of Balance, LSVT BIG for Parkinson's treatment through LSVT Global and functional dry needling levels I and II through Evidence in Motion. Elizabeth values teaching, and is an assistant professor of physical therapy. She enjoys the outdoors and playing volleyball.
Sara Kozlowski, P.T., DPT
Sara is from Schaumburg, IL. She received a doctorate of physical therapy from USAHS and is excited to start her career in beautiful east TN. Sarah provides skilled hands-on care and enjoys treating patients of various conditions, including musculoskeletal, neurologic and workers' compensation injuries. She is committed to providing high-quality care to promote patients' participation and independence in their everyday activities. Sarah has a background in sports and played soccer through college. She enjoys spending time outdoors fishing and hiking with her dog, Hazy.
Conya Smith, Patient Service Specialist
Conya has been working in the physical therapy field for more than 25 years. She worked as a physical therapy assistant and is now a patient service specialist. She is originally from east TN and is glad to be back in the area. She brings a sweet smile and warm greeting when you enter the center and plays a role in keeping the center running smoothly. She is married with two daughters and two grandchildren.
Kendra Wallace , P.T., DPT, Market Manager
Kendra was born in east TN and attended UTC and graduated with a doctorate in physical therapy in 2005. She worked in GA for 10 years with Select then relocated to Knoxville in 2015 to become the market manager. She enjoys all patients but has a special passion for orthopedics and sports medicine, workers' compensation and patients with dizziness and fall prevention. She is a board certified orthopedic manual therapist and certified in ReVital Cancer Rehabilitation, LSVT BIG for Parkinson's, trigger point dry needling and concussion. She is most often found at a field or court with her husband and two active young boys.
All Services
Physical Therapy
Physical Therapy
Aquatic Therapy
Orthopaedic Rehabilitation
Recovery and Reconditioning
Amputee Rehabilitation
Cancer Rehabilitation
Dry Needling
Fall Prevention Program
LSVT BIG - Parkinson's
Manual Therapy
Neurologic Rehabilitation
Pain Management
Pre-/Post-Operative Care
ReVital Cancer Rehabilitation
Spine Program
TMJ/TMD Rehabilitation
Vestibular Rehabilitation
Women's Health
Fibromyalgia Treatment
Headache Treatment
Incontinence Therapy
Instrument-Assisted Soft Tissue Mobilization
Osteoporosis Management
Pelvic Health
Prenatal/Postpartum Rehabilitation
Stroke Rehabilitation
Wheelchair Seating and Mobility Clinic Services
Hand Therapy
Hand Therapy
Arthritis / Osteoarthritis Program
Joint Mobilization
Sports Medicine
Sports Medicine
ACL Program
Concussion Management
Functional Movement Screen
Golf Program
Work Health
Work Conditioning
Ergonomic Programs
Injury Prevention
Onsite Rehabilitation
Work Hardening