Find Location
4001 Fair Ridge Drive
Suite 201
Fairfax, VA 22033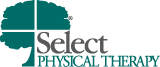 Hours
| Day of the Week | Hours |
| --- | --- |
| Monday: | 9:30 AM - 7:00 PM |
| Tuesday: | 7:00 AM - 3:30 PM |
| Wednesday: | 9:30 AM - 7:00 PM |
| Thursday: | 7:00 AM - 3:30 PM |
| Friday: | 7:00 AM - 1:00 PM |
| Saturday: | Closed |
| Sunday: | Closed |
Featured Services
Physical Therapy
Orthopaedic Rehabilitation
Athletic Training Services
Sports Medicine
Return-to-Work Program
Select Sports Center of Excellence
Work Conditioning
View All Services
About
At Select Physical Therapy, we know that injuries are never scheduled, but relief can be. If you're injured, tired of having less mobility or experiencing aches and pains, let our licensed clinical experts help. We believe movement is medicine and are committed to helping our patients get back to work, athletics and daily life. The road to recovery starts with Select!
We are proud to serve your community and are committed to providing each person an exceptional experience that promotes healing and recovery in a safe, compassionate environment. Call to request an appointment and experience the power of physical therapy today.
Our center is proud to be a Select Sports Center of Excellence, which is an endorsement of our expertise in providing the highest quality of care in sports physical therapy. We have a proven commitment to excellence in injury prevention, rehabilitation/return to sports and performance enhancement.
Whether you're a competitive or recreational athlete, our focus is on you and your goals. Our dedicated sports medicine physical and occupational therapists know an athlete's mindset and the demands of your sport. Trust us to treat the athlete you are today so you may become the athlete you want to be, tomorrow.
Our Team
Andy Prishack , P.T., ATL, ATC, Center Manager
Andy is the center manager for Select Physical Therapy's Fairfax location and serves as the director of athletic training. He has achieved success in treating orthopedic and athletic conditions, along with the injured worker. Andy has had the opportunity to work with a wide range of athletes, including junior amateur hockey players, grade school and high school student-athletes, Olympic athletes and the Pittsburgh Steelers football club. He has completed hundreds of hours of continuing education and is an active participant on the Select Medical Concussion Advisory Board. Andy earned a bachelor's degree in athletic training in 1989 from the University of Pittsburgh and master's degree in physical therapy in 1992 from Slippery Rock University.
Ashley Jones, DPT
Ashley received her undergraduate degree in kinesiology from Rice University and doctorate of physical therapy from Marymount University. She enjoys working with a wide-variety of patients, but has developed a fondness for the geriatric population. Ashley is set to begin ReVital Cancer Rehabilitation certification and looks forward to becoming a certified specialist and serving the local cancer population throughout their spectrum of care. A future goal of hers includes becoming a certified lymphedema therapist as well.
Caleigh Patterson, PTA
Caleigh earned a degree in exercise physiology in 2014 from Lynchburg College and an associate degree in physical therapist assistant in 2017 from Northern Virginia Community College. She is certified in strength and conditioning and became a ReVital Cancer Rehabilitation certified specialist in 2018.
All Services
Physical Therapy
Physical Therapy
Orthopaedic Rehabilitation
Recovery and Reconditioning
Cancer Rehabilitation
Fall Prevention Program
Manual Therapy
Neurologic Rehabilitation
Pain Management
Pre-/Post-Operative Care
ReVital Cancer Rehabilitation
Spine Program
TMJ/TMD Rehabilitation
Vestibular Rehabilitation
Fibromyalgia Treatment
Headache Treatment
Instrument-Assisted Soft Tissue Mobilization
Lymphedema Program
Osteoporosis Management
Sports Medicine
Athletic Training Services
Sports Medicine
Select Sports Center of Excellence
Concussion Management
Work Health
Return-to-Work Program
Work Conditioning
Injury Prevention
Utilization Management System
Pediatric Therapy
Pediatric Physical Therapy
Prosthetics & Orthotics
Lower Extremity Orthotics
News & Events
TeleRehab
April 10, 2020
During this time, we are keenly focused on your safety while helping you feel better. Our center is open and here to serve those in need. The Department of Homeland Security and state governments have deemed physical therapy an essential component of health care during the coronavirus ( COVID-19 ) pandemic. We are taking extensive preventative measures, guided by the CDC, to protect our patients and employees who enter our center. Should you not feel comfortable visiting our center at this time, we are also offering telerehab services so you can easily connect with one of our licensed therapist through web-based technology that is HIPAA compliant. Contact us today for more information.