Find Location
1500 Rosecrans Avenue
Suite 550
Manhattan Beach, CA 90266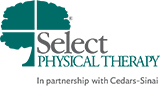 Foreign Languages: Japanese
Hours
| Day of the Week | Hours |
| --- | --- |
| Monday: | 7:00 AM - 7:00 PM |
| Tuesday: | 7:00 AM - 7:00 PM |
| Wednesday: | 7:00 AM - 7:00 PM |
| Thursday: | 7:00 AM - 7:00 PM |
| Friday: | 7:00 AM - 6:00 PM |
| Saturday: | Closed |
| Sunday: | Closed |
Featured Services
Physical Therapy
Sports Medicine
Functional Capacity Evaluations
Return-to-Work Program
Work Conditioning
Recovery and Reconditioning
ACL Program
View All Services
About
At Select Physical Therapy, our experienced clinical team will design an individualized plan of care that aligns with your specific goals in mind. Through experience, advanced clinical training and clear communication with our patients, our therapy team will give you the advantage in recovery.
We are proud to be part of the community and are committed to providing each patient with an exceptional experience that promotes healing and recovery in a safe, compassionate environment. Request an appointment and experience the power of physical therapy today.
Our Team
Heather Seyfert, P.T., DPT, CSCS, Center Manager
Heather earned her undergraduate in biology from Concordia University Portland and doctorate of physical therapy from University of Sothern California. She has extensive experience in the general orthopedic population, from post-surgical to conservative management of conditions, performance enhancement and overall health and wellbeing. She has rehabilitated a variety of high school, collegiate and professional athletes. Over the past decade, Heather has worked as a physical therapist on tour with two Grammy award-winning rock bands domestically and internationally, keeping their artists healthy. As a former collegiate athlete and basketball coach, Heather brings the team mindset to her treatment philosophy. She prides herself in treating the body and person as a whole. She values collaborative care and mentorship of the entire medical system to work toward patient-centered goals and results. She works closely with a number of LA's top physicians to provide the best care possible.
John Sico, Jr., P.T., DPT
John earned a bachelor's degree in exercise science from Arizona State University and doctorate of physical therapy from Western University of Health Sciences. He has a passion for restoring and enhancing human movement regardless of sport, occupational duty or prior level of function. During a neurorehabilitation clinical rotation at Long Beach Memorial Medical Center, he discovered an interest in treating neurological disorders such as Parkinson's disease. His treatment philosophy takes a holistic approach and collaborative effort with the patient in creating an optimal and individualized treatment plan.
Danielle Wood, P.T., DPT
Danielle earned a bachelor's degree in Kinesiology from Texas Christian University and doctorate of physical therapy from Western University of Health Sciences. She has experience treating a variety of orthopedic injuries and surgeries. She is passionate about educating patients about their injury and preparing them for success after physical therapy. She values communication and enjoys collaborating with patients to find a program that works for them. She continues to pursue education through courses, research and peers to better help patients.
Julie Gillespie, P.T., DPT, CAPP
For more than 30 years, Julie has been helping men and women overcome pelvic disorders through physical therapy. A pioneer in the advancement of pelvic floor wellness, Julie led the nation's first university-based clinical Women's Health Program at the University of Southern California, where she helped the faculty treat patients for incontinence and pre- and postpartum muscle problems through physical therapy. Her leadership and development of unique treatment plans for muscle dysfunction resulted in significant improvements for the men and women in the program. Her customized treatment plans can relieve a variety of urinary, bowel and sexual conditions including dyspareunia, coccydynia, testiculitis, vulvodynia and vaginismus. With a specialty in identifying and treating pelvic floor disorders, Julie has worked with hundreds of patients throughout the Los Angeles area to achieve optimal core fitness.
Marian Voelker, D.C., PTA, CSCS
Marian earned a bachelor's degree in human biology from Los Angeles College of Chiropractic. She later became a licensed physical therapy assistant. In 2004 she became a certified strength and conditioning specialist. Marian's main experience is in the outpatient orthopedic setting. She uses hands-on therapy and exercise to treat a variety of conditions and strives to restore and improve people's quality of life and physical function. Marian continues her education with the most current multidisciplinary information and approach to rehabilitation.
Allison McLaughlin, P.T., DPT
Alli received a doctorate in physical therapy from Chatham University in 2019. She has previously been a travel physical therapist before taking a full-time position with Select Physical Therapy. She is certified in LSVT BIG, a specific therapy for people with Parkinson disease. She was born and raised in Pittsburgh, PA. She knew she wanted to be a physical therapist when she saw the impact it has on individuals' lives.
Sarah Aaron, P.T., DPT
Sarah received a bachelor's degree in kinesiology with an emphasis in pre-physical therapy from San Diego State University and doctorate of physical therapy from Northwestern University. She has experience in treating a diverse patient population including orthopedic diagnoses, neurological disorders and sports-related injuries. She is passionate about working with patients to assist them in reaching their goals and maximizing their quality of life through a hands-on and collaborative approach. Sarah continues to educate herself through current research, classes and personal experiences.
All Services
Services
ACL Program
Amputee Rehabilitation
Athletic Movement Index (AMI)
Concussion Management
Fall Prevention Program
Fibromyalgia Treatment
Fire Department / First Responder Services
Functional Capacity Evaluations
Functional Movement Screen
Headache Treatment
Injury Prevention
Instrument-Assisted Soft Tissue Mobilization
LSVT BIG - Parkinson's
Manual Therapy
Onsite Rehabilitation
Osteoporosis Management
Pain Management
Pelvic Health
Performing Arts / Dance Rehabilitation
Physical Therapy
Prenatal/Postpartum Rehabilitation
Recovery and Reconditioning
Return-to-Work Program
Spine Program
Sports Medicine
TMJ/TMD Rehabilitation
Utilization Management System
Vestibular Rehabilitation
Work Conditioning
Work Hardening
Community
We are in network with many insurance carriers, including:
Medicare
Workers' compensation
Liens through motor vehicle accidents
California is a direct access state, which means most insurances approve physical therapy without a physician's referral for 12 visits/45 days. Please contact our centers for more information.